Do you use banksmen to direct vehicles in your workplace?
Friday April 2018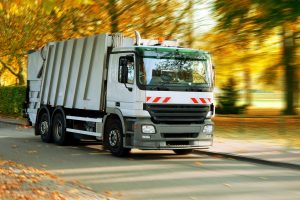 Every year banksmen suffer serious and fatal injuries whilst at work. If you do use banksmen, make sure they are trained to carry out their duties safely.
Using banksmen to control reversing operations can put the Banksman in the potential danger area of a reversing vehicle. There must be a safe system of work that ensures the Banksman and driver are using standard signals, so that they are easily understood, and that the driver knows to stop the vehicle immediately if the Banksman disappears from view.
Earlier this month the Royal Mail were fined £1.6m after a yard marshal was hit by a lorry in their Jubilee Mail Centre in Hounslow, Middlesex, its largest ever amount for a safety offence.
According to a Communication Workers Union (CWU) press release, the worker was struck by a 7.5 tonne large goods vehicle on 12 December 2014. He was knocked unconscious and sustained multiple serious injuries, including a fractured jaw and several broken ribs.
It had reportedly failed to carry out risk assessments and had no monitoring or supervision on site. It had given workers no safety information or training and had failed to maintain safe workplace transport arrangements, including road markings and signage.
Royal Mail pleaded guilty breaching s 2(1) of the Health and Safety at Work Act on 7 December 2017.
In summing up the judge said that the company's breach of safety regulations had resulted in a high likelihood of harm. He had initially calculated a fine of £2.4m, but reduced it by a third to reflect the company's early guilty plea.
If you require any further information regarding vehicle banksman training then please contact us.
Click here to read the article in full https://www.ioshmagazine.com/article/royal-mail-fined-ps16m-over-yard-marshals-multiple-injuries