Policies Need To Be Enforced
Monday October 2017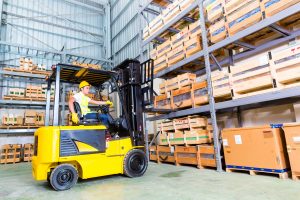 Fork Lift Truck Policies are rules within the workplace however if they are not enforced then it is likely these 'rules' are not being followed.  This was the case with a tyre company in Grantham who has been fined £300,000 following the breach of health & safety regulations which resulted in the death of a fork lift operator.
The incident involved a lateral instability where the fork lift truck when driving forwards carrying a load of tyres obscured the operators vision which then rode over a tyre on the floor causing the fork lift truck to tip over sideways.
In addition, the Fork Lift Operator had failed to wear his seat belt and consequently fell out of the fork lift truck which then resulted in the truck falling on him causing fatal crushing injuries.
The Company had policies in place regarding the requirements of operators to wear seat belts however these were not enforced.  The warning device on the truck to alert the operators to wear the seat belts had been disabled.  The belt had instead been clipped into the latching mechanism found behind the seat.  This was also evident on other trucks used in the warehouse.
The Company accepts its failures in enforcing its policies and believes they were trying to be proactive in health & safety and doing their upmost to provide a safe working environment for their employees.
This incident acts as a reminder to those companies who have policies in place to ensure they are enforced.