RTITB Fork Lift Truck (FLT) Training – In Centre Training at Altham
Thursday July 2017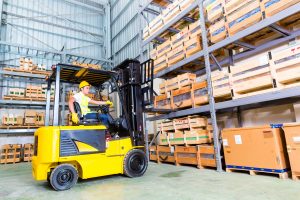 Specialist Training has been delivering RTITB Fork Lift Truck (FLT) training since 1999 and is the only commercial RTITB approved training centre to provide accredited FLT training in East Lancashire.
Our training warehouse in Altham has facilities to run 3 training courses at any one time, each course having their own dedicated training bay.  A Fork Lift classroom is also available to cover the theory element of a course.
In-centre training at our warehouse in Altham is a very popular choice training approximately 250 operators each year.  In-centre training is most suitable for those organisations who either don't have the space or are unable to make a truck available for the duration of the course or can't release more than 1 member of staff at a time.
In addition to the operator level training we are also accredited to deliver the RTITB Instructor / Examiner course for those companies who prefer to have their own in-house resource.
To find out more about our facilities or if you would like to visit our training centre then please give us a call on 01282 687090.