Winner of the Driver CPC Instructor of the Year 2018
Thursday June 2018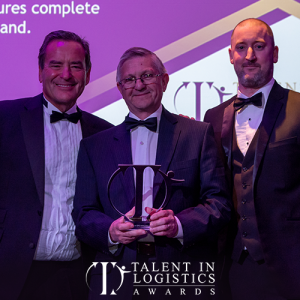 Specialist Training and Consultancy Services Employee wins Driver CPC Instructor of the Year at Talent in Logistics Awards 2018
Nigel Monk of Specialist Training & Consultancy Services Ltd was named Driver CPC Instructor of the Year at the Talent in Logistics Awards 2018. The Award was presented by special guest host Jeff Stelling, presenter of Gillette Soccer Saturday and live football and Award Sponsor, the RTITB Instructor Academy.
"As a Driver CPC Instructor, Nigel has demonstrated an enduring passion for training, nurturing future driver talent and junior Driver CPC trainers, and consistently going beyond the call of duty," says Ruth Edwards, Talent in Logistics Event Manager.
Having worked at Specialist for almost 15 years, Nigel is the company's Senior Driver CPC Trainer. In 2017 he trained 589 drivers on 70 courses for 49 customers. With his gregarious and positive personality, enduring passion for training, and encyclopaedic knowledge, Nigel's delivery is consistently engaging. Despite being in recovery from serious cancer treatment, he revels in his training role, and consistently goes above and beyond what is required of him.
"We were absolutely delighted to see Nigel recognised at a national level for such a prestigious award" says Nicola Dugdale, Specialist's Managing Director. "He is the embodiment of the type of trainer we have here at Specialist. It's also worth mentioning Kevin Gibson, another Specialist trainer who made the final five finalists for this award. It makes me especially proud to see two fifths of the national finalists came from our Company!"
The Talent in Logistics Awards was created to celebrate professionals at every level of learning and development, and reward those who are inspiring the next generation of logistics and transport talent.
On Thursday 21st June 2018, logistics professionals attended the awards ceremony at the Telford International Centre, to recognise and celebrate talented individuals from across the sector. There were 16 worthy winners, from trainers, instructors and Learning and Development (L&D) Managers, to LGV drivers and apprentices, HR Managers and Transport Managers.
A list of all the winners can be found at http://www.talentinlogistics.co.uk/2018-winners/ .
"Driver CPC Periodic Training provides valuable continued professional development and the right Instructors, like Nigel, are key for inspiring the next generation of exceptional LGV drivers," Ruth adds.
Event organisers have announced the next Talent in Logistics event, which includes the annual Awards and also a daytime conference, to take place on 27th June 2019 at Arena MK in Milton Keynes.
For more information, visit www.talentinlogistics.co.uk.